Sides delivers the most powerful vehicle in France
In February 2013, all 230 employees of the Sides production facility celebrated the release of the 100th S3X. The event was attended by key figures from the Saint-Nazaire area and several members of the press.
This vehicle has exceptional firefighting range of over 140 metres, making it ideal for intense fires where the heat makes it impossible to get any closer.

Fires in industrial environments – and at oil refineries in particular – are particularly intense and produce vast amounts of heat. This type of disaster calls for high-powered equipment capable of spraying large volumes of water or foam over large distances. "From a technical perspective, this is the most powerful vehicle that Sides produces. Its monitor is capable of spraying water up to 140 metres. It has two flow rates – 9,000 and 18,000 litres of water per minute – and is able to operate independently for 66 minutes," explains Erwan Meyer from the Safety Department at Total's Donges refinery.
A vehicle tailored to the customer's requirements
This exceptional vehicle was designed and developed in close collaboration with the customer, resulting in a highly customised model. "We worked closely with the Safety Department and the supplier on a range of technical matters to ensure that the end result accurately reflected the customer's requirements. We were able to overcome all obstacles and ensure that the final vehicle featured only the controls that we required," explains Christophe Langlais from the refinery's Purchasing Department.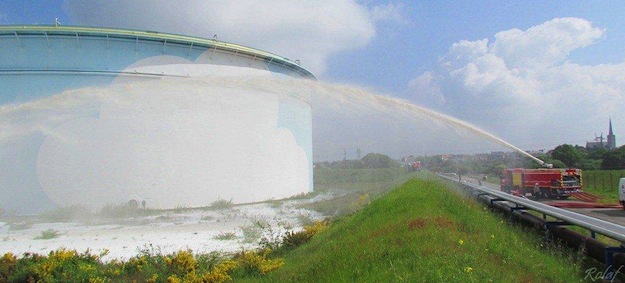 The VGP High Power Sovereign underwent a series of successful tests, conducted by both refinery staff and Sides experts. The model has now gone into production. Its maximum water outlet capacity of 1,188,000 makes it the most powerful vehicle in use at any refinery in France.