Sentinel 6×6
User-friendly performance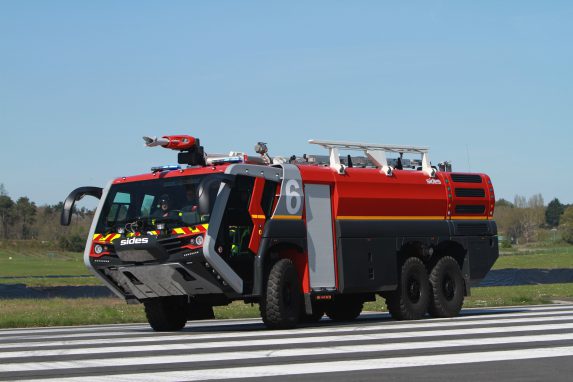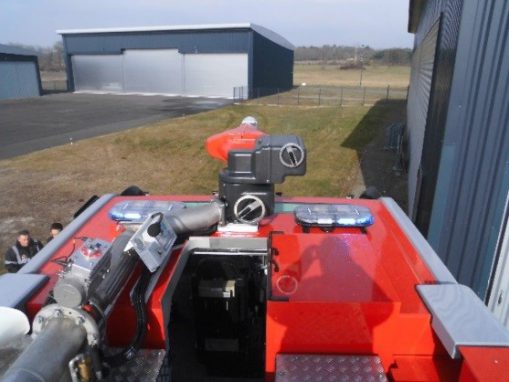 Sentinel 6×6
User-friendly performance
Based on our in-depth understanding of your operating and regulatory requirements and our extensive experience, we have based our efficient design on the most reliable systems and equipment available.
Our regular servicing work on airport firefighting trucks in different regions of the world and feedback from our customers has demonstrated the importance of easy access to service operation.
Technical specifications

Sides' commitment to users

Sides' commitment to maintenance
Chassis and cab

Hide

Type

TITAN T36-650 6x6 MERCEDES engine

Emissions

Euro 5 or Euro 5

Speed

115 km /h

Acceleration

NFPA compliant < 35 p

Cab
Sides ergo cab

Up to 5 seats
Extinguishing capacity

Hide

| | |
| --- | --- |
| Water tank | Up to 12 500 l/min |
| Powder unit | Up to 500 kg N2 or CO2 gas propellant |
Pumping and proportioning system

Hide

| | |
| --- | --- |
| Type | SIDES SB 10.6000 |
| Transmission | Direct PTO system via shaft for Pump and Roll |
| Pump flow rate | Up to 7200 L/min at 12bar |
| Proportioning system | Around the pump |
Roof monitor

Hide

| | |
| --- | --- |
| Type | SM 60 |
| Flow rate | Up to 6000 L/min |
| Range | 100 m |
Firefighting equipment

Hide

Hose reel
Fixed or pivoting Sides hose reel

30 m rigid hose, internal diameter 35

Electric rewinding

Dual flow attack nozzle
Portable foam nozzle

LMP 500 type III (flow rate 450 l/min)
Vehicle self-protection

Hide

| | |
| --- | --- |
| Type | via nozzle under the chassis and cab |
Technical data

Hide

| | |
| --- | --- |
| Operating weight | 36 T |
| Dimensions (height x width) | 3.7 m x 3 m |
| Length | 11.8 m |
Sentinel is a high-performance truck. To keep response time to a minimum, Sides' engineers have selected a chassis with unrivalled road performance and designed both the cab and the firefighting equipment with both user comfort and safety in mind.
Accessible
In the interests of crew access and fast response, we have designed the cab with:
+ no centre column
+ wide access areas
User-friendly
Each element – chassis, cab and firefighting system – has been carefully designed to be as easy to use as possible. This means that firefighters can :
+ use the truck intuitively
+ avoid operator errors
+ attack the fire precisely
even in severe emergencies !
Comfortable
In the interests of comfort, we have designed :
+ a spacious cab
+ an efficient air conditioning system
+ large storage lockers in the cab
+ specially designed storage for firefighting equipment
These features mean that firefighters are able to remain alert and focused at all times.
Safe
Safety features include:
+ low dashboard for improved visibility
+ low centre of gravity for better stability
+ cab with the best safety standards
Daily inspections, regular maintenance and reliable systems are critical. We have therefore designed Sentinel to feature ultra-reliable systems, with servicing and maintenance needs in mind.
Reliable
Sentinel is built on an ultra-reliable structure:
+ best-in-class TITAN chassis
+ best-in-class Sides firefighting equipment and components
Accessible
In the interests of safe and easy daily inspections and maintenance, Sentinel provides direct access to the chassis and firefighting equipment:
+ access from the ground
+ no need for specific tools
+ single point of access for inspection
Inspection
The S-Control's on-board management system can be used to conduct a quick, simple and accurate diagnosis of vehicle components
Simple
The main firefighting components can be maintained using standard exchange system parts
Specific components
Sides manufactures all firefighting components for its vehicles in France. Order parts separately or as a kit, either as part of your maintenance contract or our Sides Service.