Sentinel S3X
Optimal performance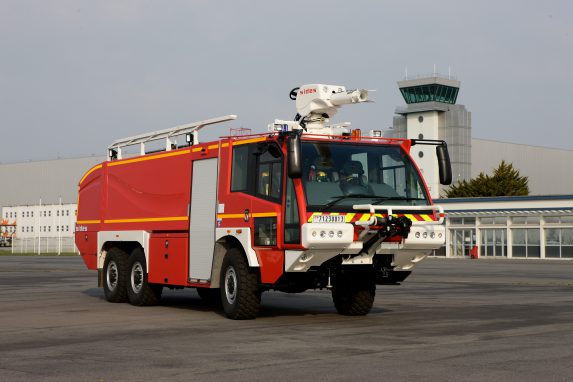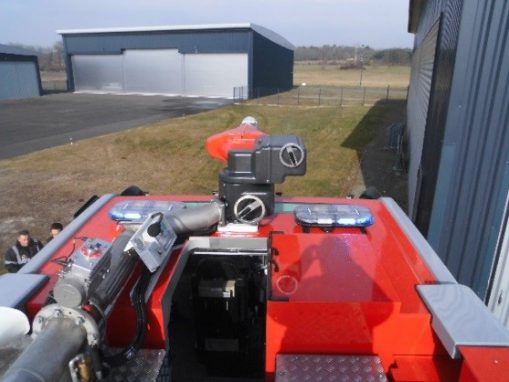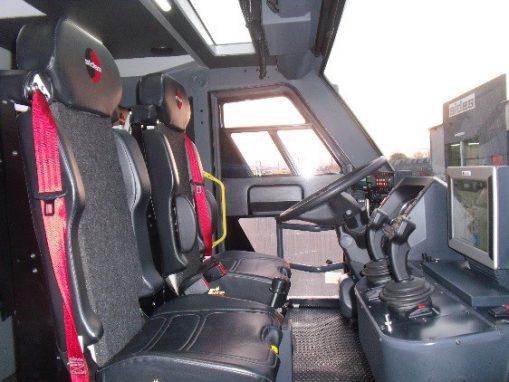 Sentinel S3X
Optimal performance
The S3X is Sides' leading airport vehicle.
It features a wealth of technology and combines reliable, mass-produced components, Sides' research and expertise in firefighting vehicle design and a reduced TCO.
The S3X has been developed in partnership with users. It is spacious and features proven equipment and automated functions to give you the best results in terms of safety, comfort and performance during operations.
Technical specifications

Sides' commitment to users

Sides' commitment to maintenance
Chassis and cab

Hide

Type

MAN - 6x6

Emissions

Euro 3 or Euro 5

Speed

115 km/h

Acceleration

NFPA compliant

Cab
Sides

Seats up to 4 crew
Extinguishing capacity

Hide

| | |
| --- | --- |
| Water tank | Up to 10,500 l |
| Powder unit | Up to 500 kg N2 or CO2 gas propellant |
Pumping and proportioning system

Hide

| | |
| --- | --- |
| Type | SIDES SB 10.6000 |
| Transmission | Direct PTO system via shaft for Pump and Roll |
| Pump flow rate | Up to 7,200 L/min at 12 bar |
| Proportioning system | Around the pump |
Roof monitor

Hide

| | |
| --- | --- |
| Type | SIDES SM 60 |
| Flow rate | Up to 4,500 l/min |
| Range | > 85 m |
Firefighting equipment

Hide

Hose reel
Fixed or pivoting

30 m semi-rigid hose, internal diameter 35

Electric rewinding

Dual flow attack nozzle
Portable foam nozzle

LMP 500 type III (flow rate 450 l/min)
Vehicle self-protection

Hide

| | |
| --- | --- |
| Type | via nozzle under the chassis and cab |
Technical data

Hide

| | |
| --- | --- |
| Operating weight | 29 T |
| Dimensions (height x width) | 3.84 m x 2.55 m |
| Length | 10.8 m |
The revolutionary S3X is the first Sides vehicle to be fitted with with S-Control technology, a highly intuitive firefighting equipment management system. The S3X is a high-performance, easy-to-use, comfortable and safe vehicle designed with the specific needs of airport emergency response teams in mind.
Fast
It is important to remain alert at all times on operations. We have fitted the S3X with automated firefighting equipment, making it easy to use in emergencies :
+ intuitive control system
+ S-Control touch screen
+ additional control systems at deployment points
Comfortable
We understand that a firefighter's role involves lengthy periods of surveillance, both on the tarmac and in the car parks. So we have created a comfortable living space, featuring :
+ clear spaces in the cab
+ 3 fully separate seats
+ an effective ventilation and demister system
+ high-quality sound-proofing
High-performance
We have developed a high-performance vehicle capable of withstanding the most challenging operating environments:
+ a chassis that far exceeds the required performance standards
+ powerful and accurate firefighting equipment
+ stable foam quality and reduced foam compound consumption
+ accessible and easy-to-use accessories in large, fitted lockers
Safe
With user safety in mind, we have designed a special cab in line with SSLIA standards:
+ wide field of view
+ easy access at both sides for firefighters wearing an SCBA
+ quick, safe access from the cab to the platform, emergency controls and tank filler system
The S3X features proven components, limiting the need for technical servicing and maintenance.
The key mechanisms of the S3X have been designed with ease of access in mind, making inspection and maintenance operations both easier and safer.
Reliable
The S3X has been designed to have an ultra-long service life, with:
+ Sides' expertise in the design and manufacture of firefighting equipment
+ a commercial 6×6 chassis designed to withstand the most challenging environments
+ parts and maintenance schedules listed in the MAN network
Accessible
The S3X's maintenance points are easy to access, ensuring that engineers remain safe at all times during maintenance operations :
+ engine can be accessed directly from the ground simply by opening the housings
+ driveline maintenance points are accessible from beneath the vehicle
+ multiple access points to the hydraulic system, so there is no need to remove any parts to carry out inspection and adjustment work
Inspection
The S-Control's on-board management system can be used to conduct a quick, simple and accurate diagnosis of vehicle components
Simple
The main firefighting components can be maintained using standard exchange system parts
Specific components
Sides manufactures all firefighting components for its vehicles in France. Order parts separately or as a kit, either as part of your maintenance contract or our Sides Service.