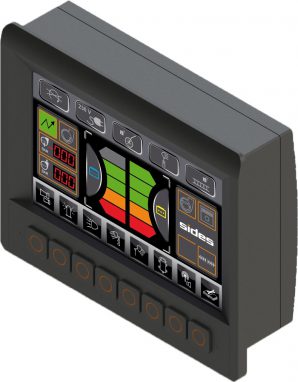 The CAN-VIEW is an electronic management system CAN-Bus based technology developed by SIDES. It manages and monitor, from the cabin, all the equipment of a vehicle to fight against the fire, for security applications civil or industrial protection.
Technical specifications

Sides' commitment to users

Sides' commitment to maintenance
Type
Sensitive keys Display
Features
Pilot and display all firefighting vehicle functions.
Module setting by computer and integrated setting screen
Protection
IP 67
Screen
7'' touchscreen backlit
Options
Using the screen for reversing camera allowing to have a single screen
Showing inclinometer information
Remote connection by tele maintenance
easy integration
CAN bus system suitable for all types of chassis
Single-screen position in the cabin of the vehicle for the overall management of the fire equipment
Compact system
Communication with the S-CONTROL, for retrieve various information of the hydraulic block, and display them in the cabin: pressures, tank levels, etc.
ergonomics
Screen 7  » and backlighting the front face, for use in all conditions
Intuitive design allows for easier screen pages use
Ease ownership
Simplified application
Centralization of all functions of a vehicle
fight against fire
System Responsiveness
High operating and maintenance Safety
Displaying the automatic decline screen of reverse gear
Possible integration of the inclinometer
Information faults and maintenance to be carried out on the vehicle
Possibility of a remote connection to the remote CAN-VIEW
Maximum reliability and accuracy
Single command (a key – a function), no risk of error
Display warnings
Degree of protection IP67
Fast response
With our dedicated stock of spare parts, the Sides Service logistics team is able to respond quickly to your requests.
We supply the documentation you need to monitor your vehicle throughout its operational life cycle and help you identify the exact spare parts you need.