Sides celebrates the release of the 100th S3X
In February 2013, all 230 employees of the Sides production facility celebrated the release of the 100th S3X. The event was attended by key figures from the Saint-Nazaire area and several members of the press.
On 1 February 2013, some 250 people celebrated the release of the 100th S3X from the production facility. The event was attended by Sides employees, the Chairman of the Departmental Council, the Chief Commissioner of the Loire-Atlantique region, the Mayor of Saint-Nazaire and the Chairman of the Nantes Saint-Nazaire Chamber of Commerce and Industry.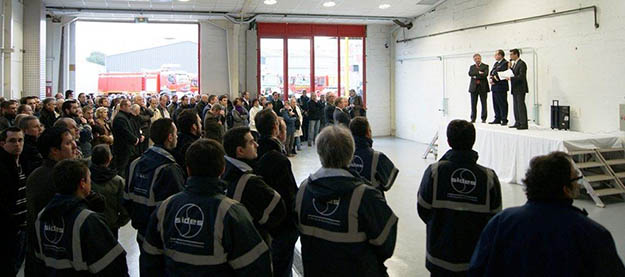 Sides designed the S3X vehicle four years ago, in close collaboration with its customers. It is the result of 60 years of expertise in the airport firefighting sector.
It was with some emotion that Christophe Vayssière officially unveiled the 100th vehicle to roll off the production line, a testament to the success of Sides. "In just four years, we have manufactured 100 S3X vehicles. Sixty of these are now in operation at military airports in France, and the remaining 40 at civil airports." The 100th vehicle is now on its way to the Cazaux airbase in Gironde.
Impressive results for Sides
The ceremony also provided an opportunity to celebrate the return to profit in 2011, with the company posting strong turnover growth, up from €43 million to €65 million. Sides is now the market leader in France and has gained international recognition as a designer and manufacturer of firefighting vehicles.
During the event, Sides also demonstrated its airport expertise by unveiling Sentinel, a high-tech vehicle with user-centric design for the international market.
The occasion was marked by a sense of pride from Sides staff, and the local guests were duly impressed. The release of the 100th S3X was an excellent opportunity for Sides to demonstrate its expertise and its commitment to customer service.