Testimonials
Testimonial from Caen-Carpiquet Airport
Maryline Haize-Hagron – Director, Caen-Carpiquet Airport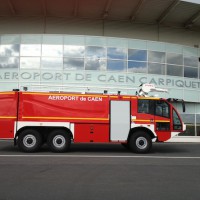 Sides vehicles at Caen-Carpiquet Airport. Caen-Carpiquet Airport possesses three Sides vehicles: a VIM 60 (1994), a VIM 24 (2005) and VIM 90 (delivered on Monday 8 July 2013). These vehicles are involved in airport safety operations on the annual D-Day commemorations. The latest acquisition – the VIM 90 – was purchased in order to update the existing fleet to ensure it complied with regulatory and safety requirements, as a replacement for the VIM 60.
Caen-Carpiquet Airport maintains a genuine partnership with Sides :
"Our relationship with Sides is a genuine partnership," explains Maryline Haize-Hagron. "I enjoy an excellent relationship with Sides' staff, and both myself and my colleagues have a direct line to the right people, whether it's the sales department or after-sales care. Sides provides ongoing support beyond the sale of the vehicle, including advice on the latest regulatory changes and their ability to put the right people in touch on a particular issue."
Your relationship with Sides in one word – Caen-Carpiquet Airport: "Partners, which is a real benefit," says Maryline Haize-Hagron.
London City Airport
Trevor Chapman – Watch Manager, Matthew Marston – Operational team, Lee Teagle – Operational team
LONDON CITY AIRPORT has operated three Sides VMA 112 6×6 vehicles with a water capacity of 10,000 litres since 2003.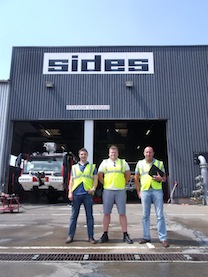 According to Trevor, "the key feature of these vehicles is their reliability. We've had very little downtime in 10 years. The after-sales team is also highly responsive."
"These vehicles are used for daily training and operations and are in service for around half an hour a day."
"When we first chose these vehicles, Sides provided a truck that was technically similar to other models but they customised it for us, including a cab designed to suit our operational needs. The end result was more than we had originally asked for."
Come and discover the SENTINEL. Trevor enjoys "excellent customer relations with Sides, and we always see the same faces as when we first bought the vehicles."
"My first impression of SENTINEL was excellent. The vehicle is low and gives a sense of stability and security. The cab is laid out exactly as we want it and platform access is also in line with our requirements."
Your relationship with Sides in one word: "Flexible".