CM 30-60-AH Monitor
CM 30-60 AH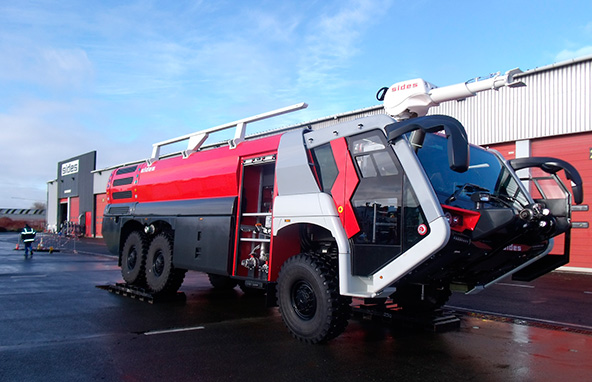 CM 30-60-AH Monitor
CM 30-60 AH
Sides designs and manufactures monitors with the specific needs of firefighting use in mind.
The CM 30-60 AH monitor – part of the aeronautics range – is designed for medium-capacity, foam response vehicles for aircraft fire use.
It offers the best balance between foam quality and range. Its "aspirated air" nozzle technology forms low-expansion foam from AFFF or AFFFP foam compounds. Its excellent performance complies with all applicable standards.
Technical specifications

Sides' commitment to users

Sides' commitment to maintenance
Type :
Canon water / foam lance sucked air or not
Construction :
Aluminium
Firefighting performances:
flow : 6000 l/min
range: 85m
expansion: 6: 1 with AFFF
Movements:
rotation: 240°
vertical movement: -18/ + 60°
assistance: hydraulic
command joystick
Compliance :
SSLIA V2R5 – NFPA 414 – EN 1846
Easy to use
+ Can be manoeuvred from inside the cab using a gradual hydraulic lever for combined variable-speed azimuth and site movements.
+ Auto-locking function in all positions (indicator lights inside the cab to indicate the road position).
Multi-purpose and functional
+ The delivery flow rate can be adjusted between full flow rate and half flow rate.
+ The jet type can be adjusted: either solid jet or dispersed flow to form a foam carpet.
Emergency
+ Manoeuvring wheels for easy manual use from the rear of the cab.
Reliable
+ Turret movements guided by bearings.
+ Two-stage static and dynamic seal with leak indicator.
+ Materials and surface treatments comply with the physical and chemical properties of the extinguishing agents used.
Simple
Firefighting component standard exchange system
Modular
Maintenance kit available for firefighting components
Fast response
With our dedicated stock of spare parts, the Sides Service logistics team is able to respond quickly to your requests.
We supply the documentation you need to monitor your vehicle throughout its operational life cycle and help you identify the exact spare parts you need.