Sherpa 6×6
Modular solution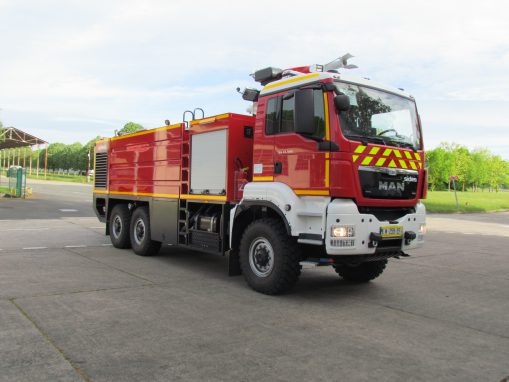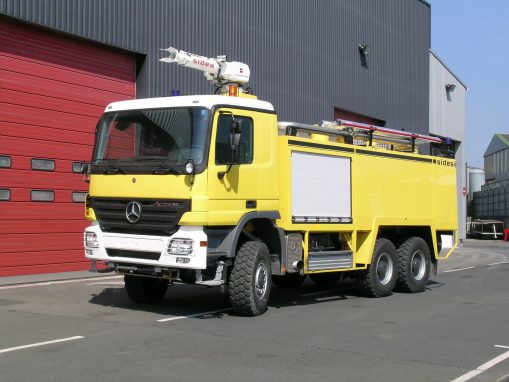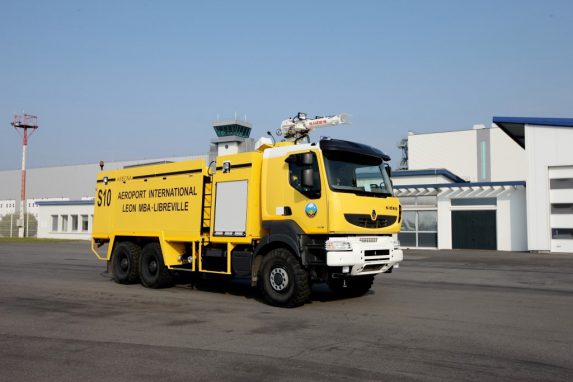 Sherpa 6×6
Modular solution
In order to meet the needs of category 3 to 10 airports, we have designed Sherpa, a modular truck that features a range of innovative airport firefighting solutions.
The product features proven Sides firefighting equipment, mounted on a simple and robust chassis.
We have adapted our Sherpa vehicle to meet the needs of a range of airport and rescue firefighting environments, from Europe and Africa to Australia, with excellent reliability on all fronts.
Technical specifications

Sides' commitment to users

Sides' commitment to maintenance
Chassis and cab

Hide

Type

RENAULT / MAN / MERCEDES / SCANIA 6x6

Emissions

EURO 3 to EURO 5

Speed

> 115 km/h

Acceleration

0-80 km/h beyond ICAO requirement

Cab
Seats up to 4 crew

Operating dashboard in cab for direct control of the hydraulic system, pumping and proportioning system and fire appliances
Extinguishing capacity

Hide

| | |
| --- | --- |
| Water tank | Up to 10,000 l |
| Powder unit | 250 kg (other capacities available on request) |
Pumping and proportioning system

Hide

| | |
| --- | --- |
| Type | Sides SB 10.6000 / front locker |
| Transmission | Direct transmission through PTO system |
| Pump flow rate | 6,000 l/min at 10 bar |
| Proportioning system | Around the pump |
Roof monitor

Hide

| | |
| --- | --- |
| Type | Sides SM 60 |
| Flow rate | Up to 5000 l/min |
| Range | Up to 85 m |
Firefighting equipment

Hide

Hose reel
Fixed or pivoting Sides hose reel

30 m rigid hose, internal diameter 35

Electric rewinding

Dual flow attack nozzle
Portable foam nozzle

LMP 500 type III (flow rate 450 l/min)
Vehicle self-protection

Hide

Type
Two foam sprays on the front

Four sprinklers on either side of the vehicle axles
Technical data

Hide

| | |
| --- | --- |
| Operating weight | 26 T to 29 T |
| Dimensions (height x width) | 4,050 x 2,550 mm |
| Length | 10.1 m |
Quick and efficient intervention is key to saving lives. Sherpa has been designed with ease of use in mind, while ensuring maximum user safety.
Efficient
All our firefighting systems have been designed with safety and ease of use in mind:
+ breathing apparatus sets can be installed directly in the back of each seat
+ pre-connected firefighting equipment is accessible from the ground
 Comfortable
We have designed the Sherpa cab with airport firefighting needs in mind, to provide improved visibility and comfort while on stand-by along the runway :
+ glass roof and anti-glare windshield
+ seating for up to 3 crew – double cab 4 seats available
+ control dashboard and radio that are easy for the driver and operator to access and operate, even when wearing gloves
+ standard controls within reach of users, with no external assistance required
High-performance
Special care has been taken to deliver both maximum space and maximum firefighting equipment capabilities:
+ all firefighting equipment performs to its maximum capability, even when used simultaneously
+ optimal performance in both static and dynamic mode
+ maximised locker space
Safe
We have designed Sherpa to comply with the most stringent safety standards:
+ stable under extreme conditions, beyond NFPA requirements
+ improved visibility during operations due to its rotating dashboard
+ easy access to emergency controls directly from the platform
With our extensive maintenance expertise, we have designed Sherpa with the maintenance needs of an airport truck in mind.
Reliable
The monitor is located on the firefighting body, protecting the integrity of the cab and providing easy access to the chassis for maintenance purposes.
Accessible
Sherpa has been designed to make truck maintenance easy, including:
+ easy access to the firefighting equipment from the ground without cab tilt
+ pumping system located at the front of the vehicle, accessible through roller shutters
+ interchangeable dry powder system
Easy to use
We use the same components on all Sherpa solutions. The maintenance requirements remain the same, whichever Sherpa you choose.
Specific components
Sides manufactures all firefighting components for its vehicles in France. Order parts separately or as a kit, either as part of your maintenance contract or our Sides Service.