Sovereign
Adaptability, endurance and performance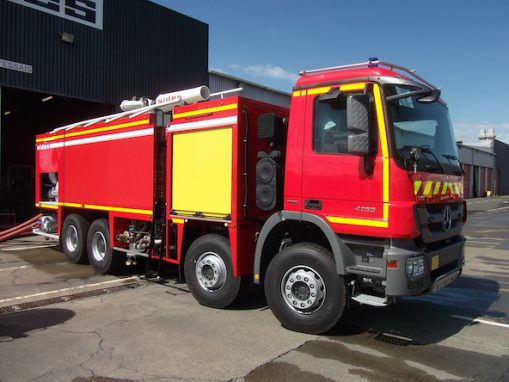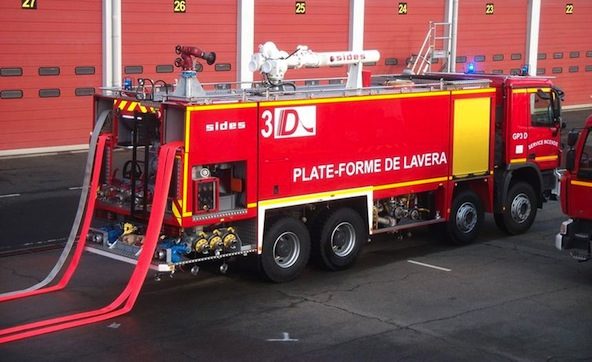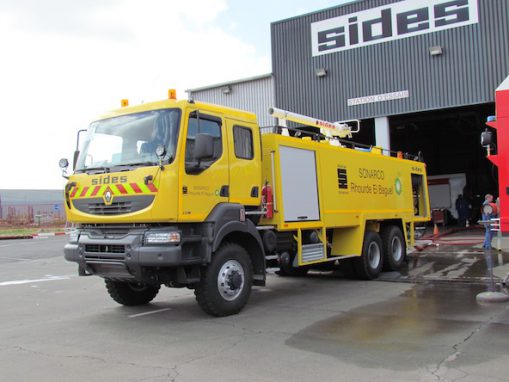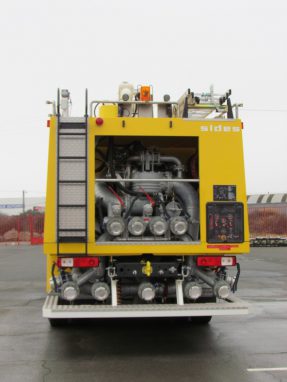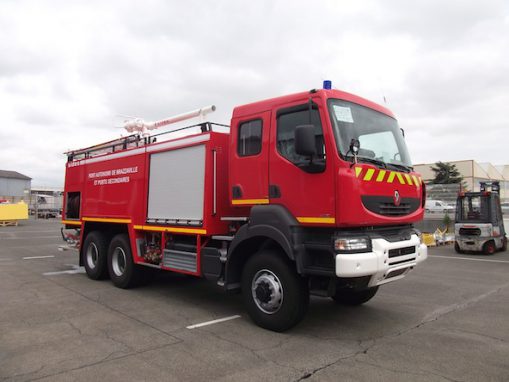 Sovereign
Adaptability, endurance and performance
This high-powered vehicle is primarily designed for large-scale operations such as tank fires. It is fitted with the best-performing firefighting equipment currently available. With its large capacity, it is able to carry sufficient foam compound to avoid the need for re-supply. In most cases, it is connected directly to the site's pressurised water supply, but is also able to work off a groundwater supply. Totally customizable, it can integrate specific equipment: hose reels – CAFS …
Technical specifications

Sides' commitment to users

Sides' commitment to maintenance
Chassis and cab

Hide

| | |
| --- | --- |
| Type | 4x2 - 4x4 - 6x4 or 6x6 or 8x4 |
| Emissions | Euro 3 to Euro 6 |
| Speed | > 90 km/h |
| Acceleration | depending on model |
| Cab | 2 or 4 doors - 2 to 6 seats |
Extinguishing capacity

Hide

| | |
| --- | --- |
| Water tank | 9,000 to 18,000 l |
| Powder unit | Up to 1,000 kg |
Pumping and proportioning system

Hide

| | |
| --- | --- |
| Type | SB 10.6000 or 21.350.12 or 21.500.12 |
| Transmission | Direct drive PTO via shaft |
| Pump flow rate | 6,000 to 20,000 l/min |
| Proportioning system | MULTI FLOW - MULTI TRONIC - DELTA FLOW - DELTA TRONIC - ADA FLOW - ADA TRONIC |
Roof monitor

Hide

| | |
| --- | --- |
| Type | SM 45 à 200, radio-controlled or manual |
| Flow rate | From 4 500 to 20,000 l/min |
| Range | Up to 140 m |
Firefighting equipment

Hide

| | |
| --- | --- |
| Hose reel | depending on request |
| Portable foam nozzle | depending on request |
Vehicle self-protection

Hide

| | |
| --- | --- |
| Type | optional, via nozzles distributed under the chassis the Equipment and the cab |
Technical data

Hide

| | |
| --- | --- |
| Operating weight | 26 T to 41 T |
| Dimensions (height x width) | 4 m x 2,5 m |
| Length | Up to 11.2 m |
Industrial hazards come in all shapes and forms, from fires to explosions, all of which require a fast and effective response. The SOVEREIGN is designed to provide you with the capability you need to respond quickly and safely to a disaster and with a very operational Equipment
Comfortable
In the industrial environment, response speeds and times vary from one disaster to another. We have therefore designed the SOVEREIGN with user comfort in mind :
+ cab capable of holding up to 6 people
+ self-contained breathing apparatus that can be stored in the seat backrest or vehicle lockers
+ rear dashboard close to the firefighting equipment
+ large layout capacity, ensuring that all firefighting equipment and accessories are kept within reach at all times
Safe
We have designed a simple, intuitive vehicle to deliver maximum comfort during operations :
+ option to control the firefighting equipment remotely
+ easily accessible firefighting equipment
+ user-friendly automatic protection systems
High-performance
The SOVEREIGN is fitted with its own foam compound tank and is also compatible with all external water and foam compound supplies, even in the most challenging operational environments, including groundwater, on-site pressurised supplies and water or foam compound master tankers.
The SOVEREIGN delivers extended firefighting capability, from a few hours to several days if necessary :
+ high capacity
+ high application rate
+ bronze pump suitable for pumping sewage and brackish water
+ monitor range of over 100 m
+ option to use the pump or network pressure
+ proven foam generation systems, designed for very high flow rates
+ Multiflow or multitronic: Mechanical or electronic balanced pressure proportioning system with choice of ratio at each outlet
+ Deltaflow + Deltatronic: Mechanical or electronic centralized balanced pressure proportioning system
+ Adaflow – Adatronic: mechanical or electronic dosing system « Around the pump »
Adaptability
Based on proven fire protection systems: pumping, dosing, tank, the SOVEREIGN is intended to accommodate special equipment based on your needs.
+ hose storage,
+ CAFS,
+ SNOZZLE,
+Self-protection,
Our project team is studying your particular needs.
We have designed SOVEREIGN on the basis of our technical expertise, to deliver a vehicle that meets the specific maintenance needs of industrial site protection equipment.
Reliable
Our experienced and expert engineers and partners are on hand to ensure that you get the longest possible service life out of your SOVEREIGN :
+ an expert in every aspect of your firefighting equipment: Sides
+ proven key components based on Sides' extensive experience, including the pump, monitor and proportioning system
+ a robust, long-lasting bronze pump
Accessible
The access points to the SOVEREIGN's equipment are grouped together to make it easier to conduct regular inspections and maintenance, as well as operational maintenance activities :
+ inspection and maintenance points accessible from the ground without having to tilt the cab
+ the hydraulic system is concentrated at the rear of the vehicle
Specific components
Sides manufactures all firefighting components for its vehicles in France. Order parts separately or as a kit, either as part of your maintenance contract or our Sides Service.