VSR
Road emergency vehicle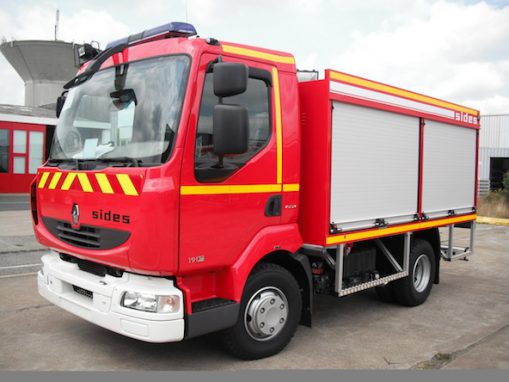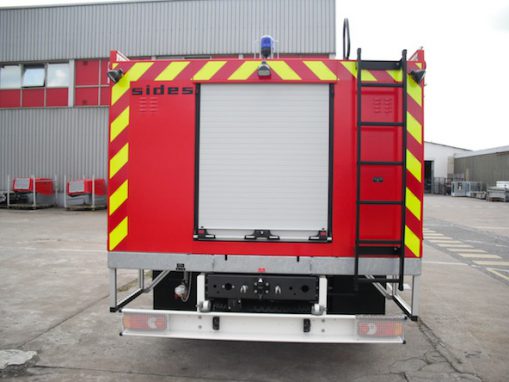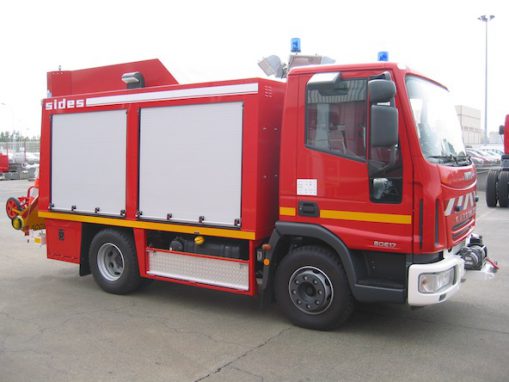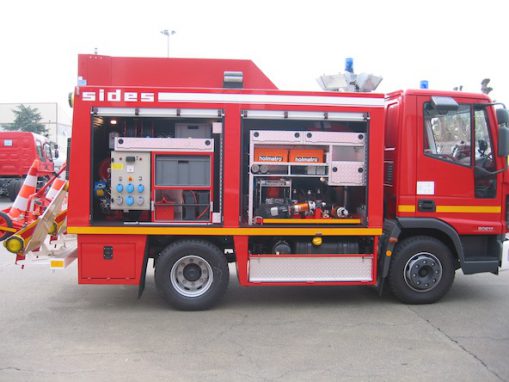 Technical specifications

Sides' commitment to users

Sides' commitment to maintenance
Chassis and cab

Hide

| | |
| --- | --- |
| Type | 4x2 on chassis trade-mark |
| Emissions | Euro 6 |
| Speed | > 90 Km/h |
| Cab | from 2 doors - 3 seats to 4 doors - 6 seats |
Extinguishing capacity

Hide

| | |
| --- | --- |
| Water tank | 400 l |
Pumping and proportioning system

Hide

| | |
| --- | --- |
| Type | Electrically driven pump unit |
| Pump flow rate | 40 l/min at 40 bar |
Firefighting equipment

Hide

| | |
| --- | --- |
| Hose reel | Emergency response hose reel (50 m of hose) with electric rewinding) |
| Portable foam nozzle | LDT nozzle up to 150 l/min |
Technical data

Hide

| | |
| --- | --- |
| Operating weight | Up to 19 T |
| Dimensions (height x width) | 3,4 m x 2,5 m |
| Length | Up to 7.3 m |
| Compliance | NF EN 1846-1 /2 /3 - NF S 61-527 |
Modular
+ Several chassis, wheel base, cab type, engine and gearbox options available.
+ Multiple combinations of vehicle extrication layouts and equipment, provided by Sides or by the user.
+ 15 to 20 kVA generator
+ Marking reels included
Easy to use
+ Storage spaces that can be accessed from the ground, covering the full length of the bodywork.
+ Heavy equipment stored on racks and sliding trays for direct access.
Safe
+ Integrated electrics, certified by an accredited organisation.
+ Powerful working area lighting and high-performance lit markings.
Options
+ On-board crane
Reliable
A range of maintenance contracts, including contracts with:
+ user technology centres
+ approved local partners
+ Sides Service engineers
Simple
The main firefighting components can be maintained using standard exchange system parts.
Modular
Maintenance kit available for firefighting components.
Safe
Maintenance contract that includes regulatory work.