High-power urban fire truck
FMOGP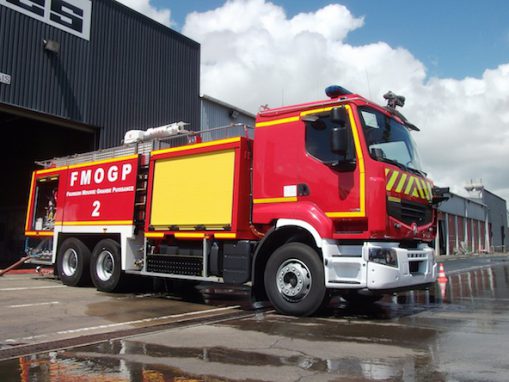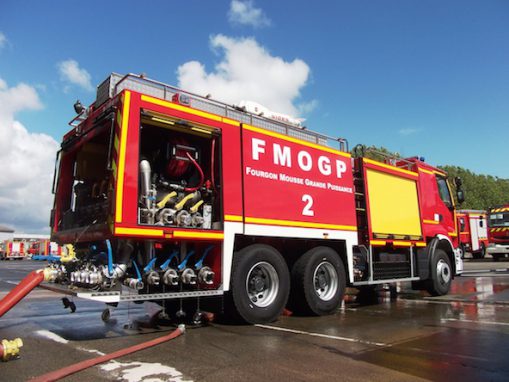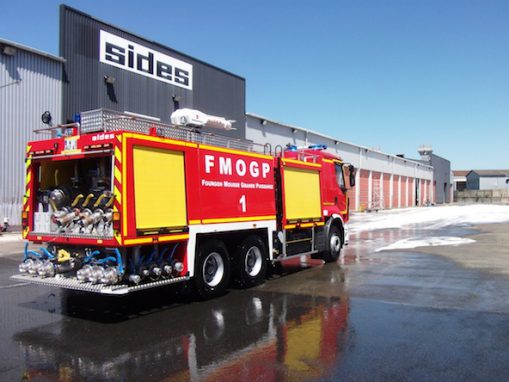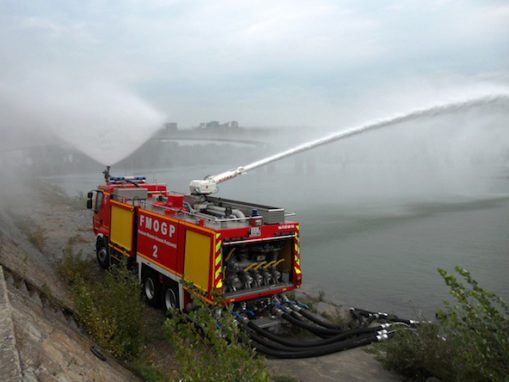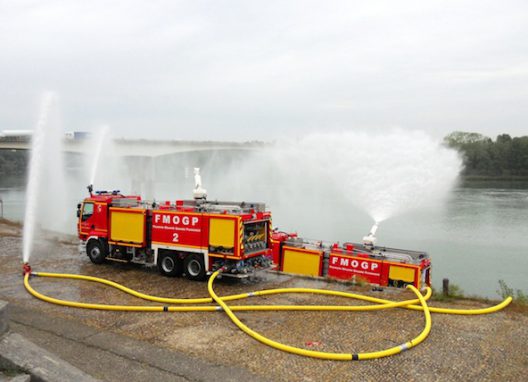 Technical specifications

Sides' commitment to users

Sides' commitment to maintenance
Chassis and cab

Hide

| | |
| --- | --- |
| Type | 6x4 to 8x4 RENAULT |
| Emissions | Euro 3, Euro 5 or Euro 6 |
| Speed | > 90 Km/h |
| Cab | 2 doors - 2 seats |
Extinguishing capacity

Hide

| | |
| --- | --- |
| Water tank | 9000 l (water and foam compound combined) |
Pumping and proportioning system

Hide

| | |
| --- | --- |
| Type | SIDES 21.500.12 |
| Transmission | Direct drive PTO via shaft with Pump and Roll feature |
| Pump flow rate | Up to 10,000 l/min at 12 bar |
| Proportioning system | SIDES DELTA FLOW |
Roof monitor

Hide

| | |
| --- | --- |
| Type | Sides SM 60 or SM 45 roof monitor |
| Flow rate | up to 6,000 l/min |
| Range | 90 m - 54 m |
Firefighting equipment

Hide

| | |
| --- | --- |
| Hose reel | Emergency response hose reel (40 m of hose) with electric rewinding |
| Portable foam nozzle | LDT nozzle 150 l/min |
Vehicle self-protection

Hide

Type
Level 1: by front nozzle

Level 2: cab + equipment by sprinklers

Level 3: under cab and wheels by diffusers
Technical data

Hide

| | |
| --- | --- |
| Operating weight | 26 T |
| Dimensions (height x width) | 3,65 m x 2,55 m |
| Length | 10 m |
High-performance
+ Pump flow rate of 10,000 l/min at 10 bar, capable of producing both firefighting foam solution and cooling water.
+ Monitors can be used while the vehicle is in motion.
Modular
+ Multiple combinations of tanks (water/additives) and proportioning systems.
+ Main monitor 3,000/6,000 l/min and remote-controlled roof monitor 1,000 l/min
Safe
+ Chassis compliant with ADR regulations (optional).
+ Thermal protection of the cab, equipment and chassis.
Reliable
A range of maintenance contracts, including contracts with:
+ user technology centres
+ approved local partners
+ Sides Service engineers
Simple
The main firefighting components can be maintained using standard exchange system parts
Modular
Maintenance kit available for firefighting components
Safe
Maintenance contract that includes regulatory work