FPTL
Light urban fire truck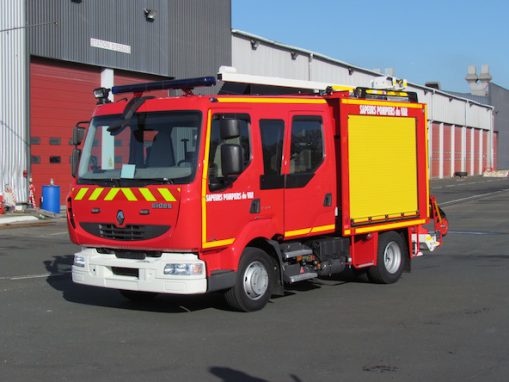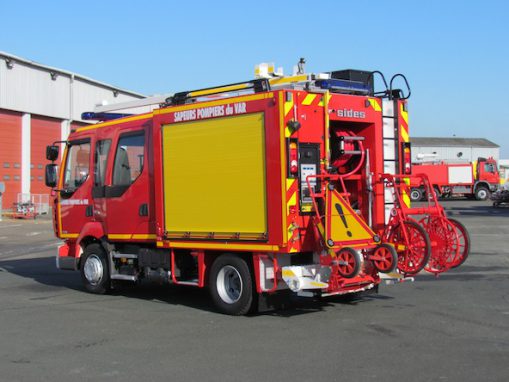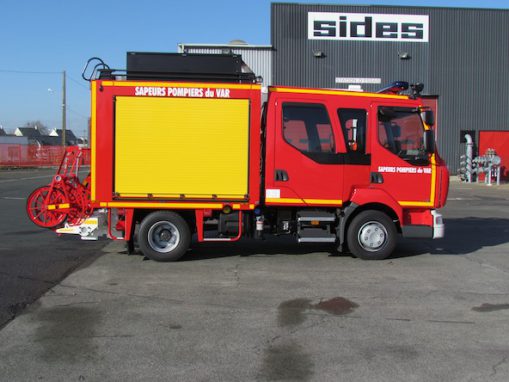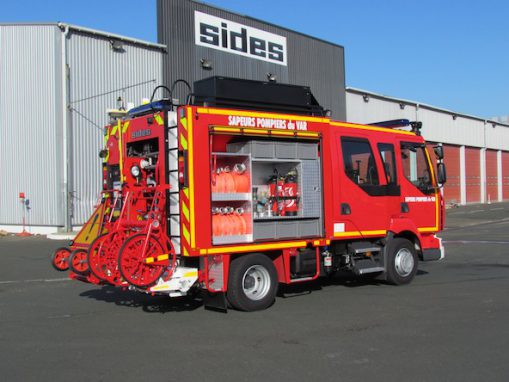 Technical specifications

Sides' commitment to users

Sides' commitment to maintenance
Chassis and cab

Hide

| | |
| --- | --- |
| Type | 4x2 on Renault D chassis or MAN TGM |
| Emissions | Euro 6 |
| Speed | > 110 Km/h |
| Acceleration | < 15 s (0-100 m) - < 27 s (0-65 Km/h) |
| Cab | 4 doors - 6 seats |
Extinguishing capacity

Hide

| | |
| --- | --- |
| Water tank | Up to 1,850 l |
Pumping and proportioning system

Hide

| | |
| --- | --- |
| Type | Sides SB 15-2000 |
| Transmission | Direct drive PTO via shaft |
| Pump flow rate | Up to 2,000 l/min at 15 bar |
| Proportioning system | Options: mechanical proportioning system, injector proportioning system, electronic proportioning system depending on customer request, or 'Around the pump' proportioning system |
Firefighting equipment

Hide

| | |
| --- | --- |
| Hose reel | Emergency response hose reel (40 m of hose) with electric rewinding and 1 or 2 mobile storage hose reels (200 m of hose, diameter 70 mm) |
| Portable foam nozzle | LDT nozzle 150 l/min |
Technical data

Hide

| | |
| --- | --- |
| Operating weight | 10 T |
| Dimensions (height x width) | 3,25 m x 2,35 m |
| Length | 6,5 m |
| Compliance | NF S 61-515 |
Fast
+ Powerful engine and braking system and reduced size for manoeuvrability in narrow urban streets and overtaking in heavy traffic.
Easy to use
+ Large cab for 6 people, laid out according to the customer's specifications.
+ Maximised, modular storage space, accessible from the ground for easy equipment access.
High-performance
+ High-performance, multi-purpose hydraulic equipment that provides a wide range of different firefighting options and gradual ramp-up of operational capability.
Reliable
A range of maintenance contracts, including contracts with:
+ user technology centres
+ approved local partners
+ Sides Service engineers
Simple
The main firefighting components can be maintained using standard exchange system parts.
Modular
Maintenance kit available for firefighting components.
Safe
Maintenance contract that includes regulatory work.
Specific components
Sides manufactures all firefighting components for its vehicles in France. Order parts separately or as a kit, either as part of your maintenance contract or our Sides Service.