FPTSR
Urban fire truck for road emergencies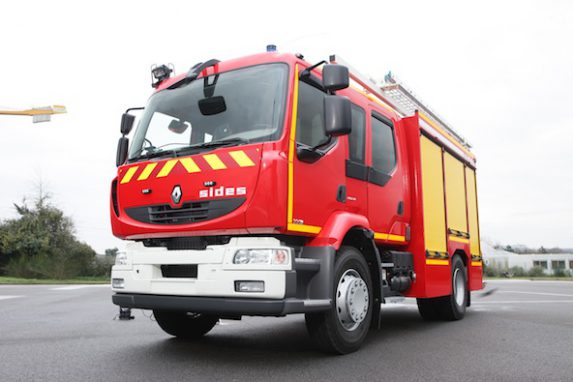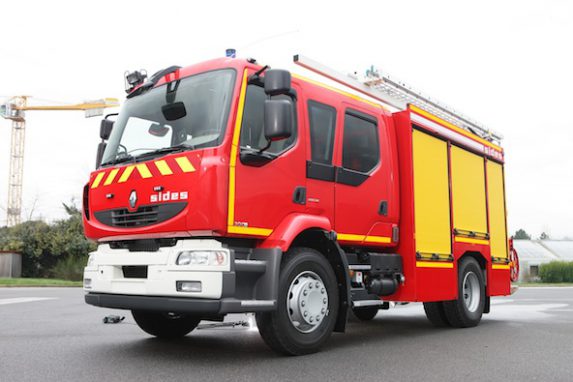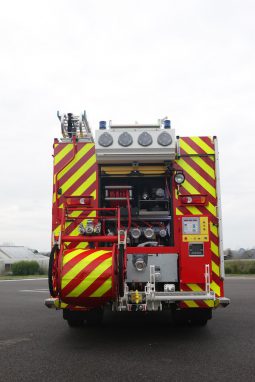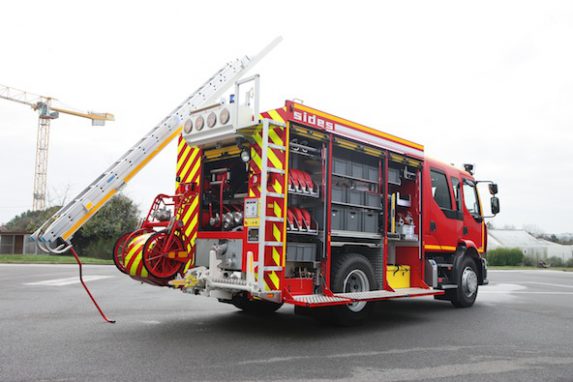 Technical specifications

Sides' commitment to users

Sides' commitment to maintenance
Chassis and cab

Hide

| | |
| --- | --- |
| Type | 4x2 on Renault D chassis or MAN TGM |
| Emissions | Euro 6 |
| Speed | > 110 Km/h |
| Acceleration | < 15 s (0-100 m) - < 27 s (0-65 Km/h) |
| Cab | 4 doors - 8 seats |
Extinguishing capacity

Hide

| | |
| --- | --- |
| Water tank | Up to 3,000 litres |
Pumping and proportioning system

Hide

| | |
| --- | --- |
| Type | Sides SB 15-2000 |
| Transmission | Direct drive PTO via shaft |
| Pump flow rate | 2,000 l/min at 15 bar |
| Proportioning system | Options: mechanical proportioning system, injector proportioning system, electronic proportioning system depending on customer request, or 'Around the pump' proportioning system |
Firefighting equipment

Hide

| | |
| --- | --- |
| Hose reel | Emergency response hose reel (40 m of hose) with electric rewinding and 1 or 2 mobile storage hose reels (200 m of hose, diameter 70 mm) |
| Portable foam nozzle | LDT nozzle up to 150 l/min |
Technical data

Hide

| | |
| --- | --- |
| Operating weight | 15 T |
| Dimensions (height x width) | 3,3 m x 2,5 m |
| Length | 8 m |
| Compliance | NFS 61-515-2014 |
Modular
+ Several chassis, wheel base, engine and gearbox options available.
+ Optimal vehicle extrication equipment storage on racks and in drawers.
Accessible
+ Large, full-length storage areas accessible via stepladders.
+ Carefully designed accessibility to limit access to the platform to maintenance operators only.
High-performance
+ LED technology used for all lighting, including the telescopic mast.
+ Compact, protected proportioning system.
Reliable
A range of maintenance contracts, including contracts with:
+ user technology centres
+ approved local partners
+ Sides Service engineers
Simple
The main firefighting components can be maintained using standard exchange system parts.
Modular
Maintenance kit available for firefighting components.
Safe
Maintenance contract that includes regulatory work.
Specific components
Sides manufactures all firefighting components for its vehicles in France. Order parts separately or as a kit, either as part of your maintenance contract or our Sides Service.