Training
Training is key to getting the best out of your Sides equipment, from initial user training to ongoing training throughout the lifespan of your vehicle.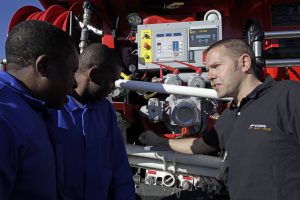 Based on our firefighting expertise and extensive user feedback, we have created training modules designed with your specific operational requirements in mind, from vehicle use and maintenance to diagnosis.
Our training programmes are delivered by Sides Service trainers or our partners, and are designed for both users and maintenance teams.
Three levels of support :
+ vehicle commissioning and initial user training
+ standard and specific training programmes
+ technical refresher courses
Our trainers deliver these sessions either at the Sides production facility or at your own premises.
You will receive a certificate at the end of the course.