Blue halogen beacons designed for an use on vehicles.
Conformities :
IP5K4K, IP9K (Dust resistant and stand up to high pressure cleaning) 
Blue photometric  E1 001240 ECE-R65 certification
Protection CEM E1 021740 
DIN 14620 (Assembly form B1)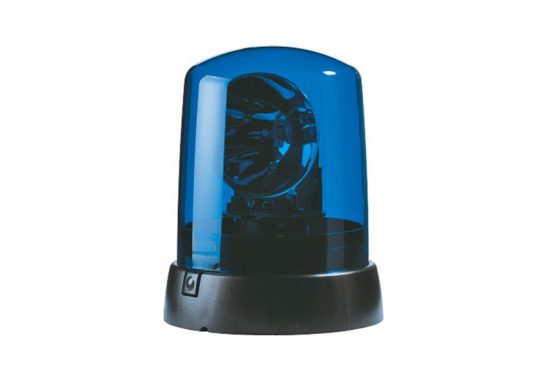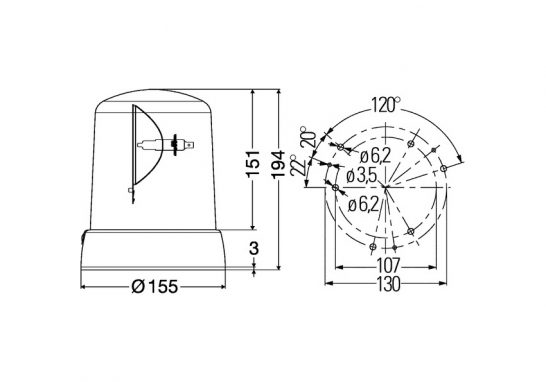 Non-contractual photos
Options and quote
Product Description
Blue halogen beacons, low-noise thanks to it maintenance-free drive bearing. Designed for mining vehicles, agriculture, firefighters, tractor vehicles, service vehicles. 2 voltage available : 12 or 24V.
Features
Material : plastic
With smooth blue cabochon
High-shee

n vapour-plated parabolic reflector 

Double belt drive
Electronic engine controller multivoltage
Reverse pole protection
Rotation speed : 160 revs/mn
Light source : halogen h1 12v, 55w
Rated voltage : 12v
Operating voltage: 10,8-13,8v
Lighting power : according to ece r65
Power absorbed : 55w
Total current consumption : 5,5A
Range : 20 m
Noise rejection : conducted class 5 (cispr 25)
Fixed mounting by the top or down
T° range : from -40 to 60°c
Dimensions : h 194 x ø 155mm
Weight : 500g
Benefits of the product
High luminosity ensuring a maximum signal efficiency
Power, concentration and total light distribution thanks to a rotary module with parabolic reflector
High-shee

n vapour-plated light intensity and halogen lamp in candelas

 (cd)
Perfectly quiet running thanks to the maintenance-free assembly with double belt drive
Electronic engine controller multivoltage for a rotation frequency perfectly constant, even in case of fluctuations in the on-board network
Excellent protective electromagnetic compatibility CEM
Smooth cabochon, easy to clean,  to fix by a simple pressure point
<span>Sides recommends</span>